After the last, admittedly pretty touchy-feely blog post, I figured it was time for something a bit more concrete and analytical regarding all of the news at Blizzcon. So here it is, Fussypants's Very Serious Take on all the gaming news announcements!
World of Warcraft
Pants is getting herself wings!!!
Ok, jokes aside, I am tentatively optimistic about the upcoming World of Warcraft changes. On the whole, I feel like Blizzard is finally recognizing the major gripes with the current system, gripes that have cause both my and other guilds I know of to step away from the game for hiatuses. The big test will be if these changes actually find their way into the next iterations of the game or not.
World of Warcraft: Shadowlands truly does have a nice ring to it! I will not lie, I enjoyed the cinematic as I always do, but it wasn't my absolute favorite. I think part of it was I found it too plot-advancing. For me personally, the best WoW cinematic are the ones that aren't entirely on the nose. They might advance the story a bit, but the bigger emphasis should be on portraying themes from the coming expansion.
Wrath, Mists, and Legion all three stand out as particularly good examples of this. From each, you got a sense of the tone of the coming expansion, whether it be centered on snow and zombies, exploration and the unlikely, or conflict and demons, respectively. Yes, there was absolutely lore significance to most of the events portrayed, but they were either events players also participated in or events that were more symbolic than causal.
While I loved the art style, as always, I didn't feel like the Shadowlands cinematic did that for me as much. I was watching a lore movie rather than a thematic introduction. Clearly, the events depicted within need to be communicated to the player base, but I'm not sure a cinematic was the way to do it.
Quibbles about the cinematic aside, I am very excited for the expansion itself. When Blizzard announced that there would be no more AP, I just about wept tears of joy. Finally! They're listening! The game won't be a giant grind-fest inaccessible to folks with busier lives! I have seen so many guilds and players burn out in Battle for Azeroth directly because of the endless slog of world quests and islands and artifact power so I am so glad they recognize this fact and, rather than working to tweak the system, are completely overhauling that aspect of it. We so desperately needed it.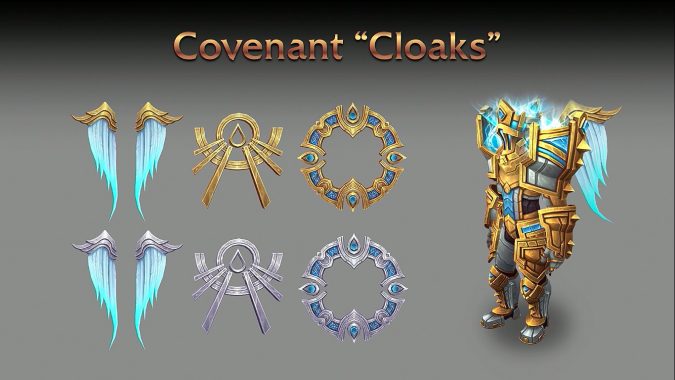 The Covenant system also looks particularly interesting.  I am very excited to see them really lean into cosmetic incentives (such as the aforementioned WINGS), especially as a reward for those grindier portions of the game.  Personally, I'm super heavily biased towards towards the Kyrian, just given my paladin and her backstory, but I definitely am interested to see them all! My one concern is I hope the power-perks they give don't just turn into a min-maxing headache for raiding, but it's definitely too far out to pass any judgement on that particular issue. 
Torghast, the endless tower of DOOM also seems rather interesting as a concept. I definitely will want to play this out for myself before passing judgement. As a main-spec healer, I'm likely only going to be going in with groups, which will definitely impact how often I find myself going in and experiencing the tower but if Shadowlands does truly succeed in enticing back players, many of my friends who have gone on hiatus might again be available to push levels in it. We shall see!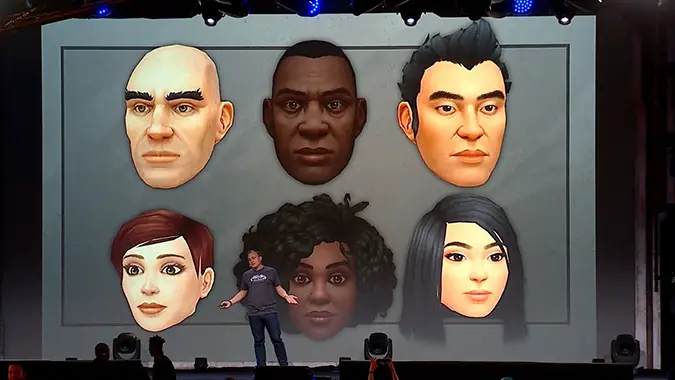 Last but not least, Blizzard also announced that they would be drastically increasing the customization options available. I have just two things to say about this.
YES
It's about time!
My pipe dream would be that they add in more curly hair options for draenei so my character model can better reflect my out of game concept of my main, but I will honestly be happy with any and all customization increases. I'm particularly excited for the changes to humans – those were so long overdue and I know how important they are for some people who haven't been represented until now. I'm also looking forward to the addition of tattoos, hopefully we can get some scars in the mix as well!
Overwatch
While I know this is a predominantly a World of Warcraft-centered blog, I do play Overwatch and boy, do I have thoughts on the news in this arena.
Genji has pants!!!
Also, Overwatch 2 or something.
But in all seriousness, I am so super stoked! I have wanted story-mode Overwatch ever since the game's inception, both because I think the world is deeply fascinating and because I'm so terrible at PvP. The proposed PvE mode gives me the chance to be bad and not be bringing down a team – at least, as much as before – as well as dive into the lore far more than before. Additionally, the new character models are pretty awesome (shout out to my boy Lucio)!
All in all, the Blizzcon announcements were exciting and positive-leaning in my mind! There's something so electric about sitting in the rooms as things are being announced, so I'm doubly happy that I was able to attend a Blizzcon where so many games I cared about had so many major changes. I know I've got a pretty long while to wait before any of the things I discussed above make it into their respective games, but I am more than willing to wait and allow the game developers to fine-tune everything to be as close to perfect as possible. And just please, keep true to the "No AP" promise!